100 years of Viennese charm
Hotel review
Erzherzog Rainer: reviews of your hotel in Vienna
Hotel reviews of Schick Hotels in the capital of Austria
Find out more online about how other guests rated your hotel in Vienna and decide which charming Schick Hotel to make your home during your holidays in Austria.
The team at the Hotel Erzherzog Rainer, your centrally located hotel in Vienna, is looking forward to your hotel review. Reviews are a chance to improve the service and an opportunity to acknowledge heartfelt hospitality and work well done.
Erzherzog Rainer: your opinion of your hotel in Vienna
Independent, authentic hotel reviews are a great help in deciding on the perfect holiday accommodation. Take a look at how other guests liked the Schick Hotels in Vienna and look forward to experiencing the legendary Austrian hospitality, delicious Viennese cuisine and a hotel team whose goal it is to ensure your perfect holiday in Vienna.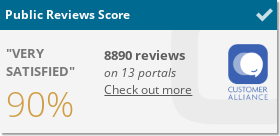 Reviews on Customer Alliance
94%
4,7 / 5,0
By Anonymous

50-59
Tu, 6. jan. 2015: "Wonderful - communicated with the front staff, primarily Katharina Gruner, prior to our trip to help with tour plans - excellent service and very timely responses. Thank you for an amazing experience in Vienna. Sandy True"
71%
3,6 / 5,0
By Anonymous

50-59
Fri, 2. jan. 2015: "The hotel has a Viennese atmosphere, Austrian staff very kind. Very good. I suggest to you."
91%
4,6 / 5,0
By Anonymous

50-59
Mon, 15. dec. 2014: "Good hospitality and great value"
83%
4,2 / 5,0
By Anonymous

30-39
Mon, 15. dec. 2014: "Hello! Everything was fine except for the fact that the breakfast was spoiled sour melon in the room can hear everything that is done in the next room. Even hear defecate in the toilet. Not very nice to hear such."
94%
4,7 / 5,0
By Anonymous

60-69
Thu, 11. dec. 2014: "A hotel with an oldfashioned style convenient for modern people."
Reviews on TripAdvisor
Reviews on HolidayCheck
The team of Hotel Erzherzog Rainer, your central hotel in Vienna is happy about being reviewed. We see Reviews as a chance to improve and also as a confirmation of our excellent work and heartly hospitality.
The experiences of guests at Hotel Erzherzog Rainer convinced you? Book your comfortable room in the heart of Vienna now!